Carrie Bradshaw may have been a writer, fashionista and honorary New Yorker, but if there's anything the "Sex and the City" columnist is most recognized for, it's her passion for footwear. From mismatched heels to knee-high socks, Bradshaw tried them all throughout the series' six seasons and its two movie sequels.
In honor of the show's 20th anniversary today, FN recounts 20 of Carrie Bradshaw's most outrageous shoe looks. Here, a definitive list: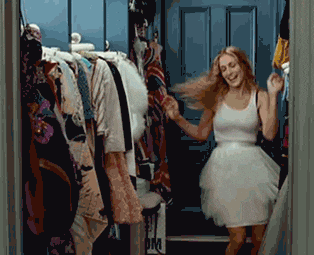 1. A Mismatched Moment
During a trip to Los Angeles, our fictional fashionista dons two differently colored shoes on her feet.
2. Fashion Roadkill
Carrie suffers a major fashion embarrassment as she trips over soaring stilettos to land flat on her face on the catwalk of a charity runway show.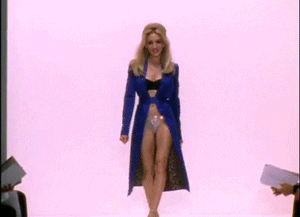 3. Knee-High Argyles
Argyle socks and open-toe heels? Carrie attempts a tricky trend with arguable success.
4. High-Fashion Robbery
Carrie is famously robbed of her designer shoes by a man with serious sartorial knowledge. The pair in question: Manolo Blahnik's red ankle-strap heels.
5. Pretty in Pink
Carrie and a very pregnant Miranda horrifyingly witness her water break all over the former's elegant pair of Christian Louboutin sandals with chiffon ruffles.
6. Golden Girl
Season 3 saw Carrie in a leather LBD and extravagant flower pin paired with equally over-the-top gold boots.
7. The Wedding
Remember when Big (Chris Noth) left Carrie at the altar? We remember her lavish Vivienne Westwood gown and Patricia Field-customized pair of Christian Dior's Extreme Dior heels.
8. The Proposal
An iconic SATC moment: Mr. Big proposes to Carrie with Manolo Blahnik's royal blue satin Hangisi pumps …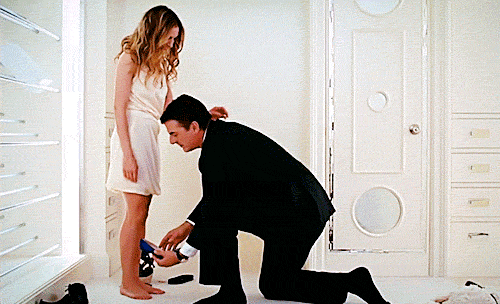 9. The Wedding Pt. 2
… and they get married in City Hall, with Carrie wearing the beautifully bejeweled shoes.
10. Extreme Dior
Another flower pin moment comes in the form of a gold-accented white number that Carrie contrasts with, yes, another pair of Christian Dior's Extreme Dior cage sandals featuring silver-tone hardware and buckle closures.
11. Pajama Party
En route to a New Year's Eve party, Carrie opts for pajamas and a pair of white booties that rise inches in the snow (you can see her heel peeking out below).
12. The "Urban Shoe Myth"
Carrie discovers the "urban shoe myth" that is the Manolo Blahnik Campari Mary Jane pump during her visit to Vogue's fashion closet.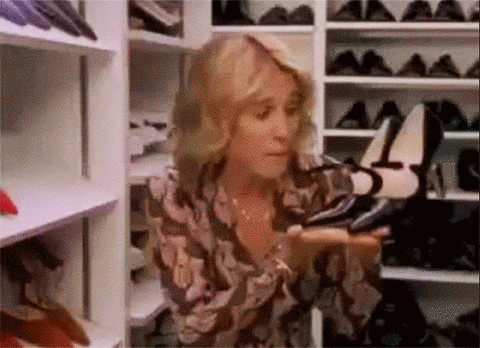 13. Call It a Comeback
Tasked to ring the bell at the New York Stock Exchange, a frantic Carrie makes her way to downtown NYC in '90s platform heels.
14. All Clear
Ahead of her time, Carrie meets Big at the Central Park Boathouse wearing a PVC mule, which promptly goes swimming in the pond when the two hilariously fall in.
15. The Dad Shoe
In rare form, Carrie dons sneakers (shocking!) — in the form of a dad shoe, no less.
16. Extra! Extra! Read All About It!
One of Carrie's most famed looks is this newsprint Christian Dior number, which she dresses up even further with sky-high Christian Louboutin heels.
17. Furry Carrie
In one of her sexcapades with Jack Berger (Ron Livingston), Carrie drunkenly slips on a pair of fluffy feather sandals — and falls asleep in them.
18. A Trip to in Dior
Carrie goes flying in knee-high stiletto boots that prove sometimes it's better to be safe than sorry.
19. Walk of Shame
Carrie's $485 silver Manolo Blahnik sandals disappear after she leaves them at the door of a friend's party. She is promptly shoe-shamed and leaves the apartment wearing a drab pair of sneakers.
20. Let It Snow
Carrie should've swapped her New Year's Eve party boots (above, No. 11) with this snow-friendly pair.